Feng Shui Five Elements Wallpaper
To help you get a better grip on the Five Elements, I have created a Feng Shui wallpaper that you can place on your desktop. It shows the productive and destructive cycle of the five elements in an easy to remember graphical form.
But before that, let me explain why remembering the Five Elements is crucial to learning Chinese metaphysics.
The use of Five Elements is pervasive in Chinese metaphysics. Let me give you an example. Ba Zi is a system of Chinese astrology that makes extensive of the Five Elements. Your date and time of birth is expressed in Five Elements and by studying the elements and their interaction, a practitioner can tell a load of story about your potential and luck in life.
Even Zi Wei Dou Shu which rely mostly on stars and their characterics, still require some knowledge of the Five Elements.
Another example is Chinese Face Reading or Mian Xiang. The shape of our face has an element associated with it. For example a square face is associated with Earth while a inverted triangle is Wood. Even the individual face features such as the nose, mouth, eyes, forehead etc has an associated element and you can use the elements and their interaction to tell a person's characteristic or predict the future!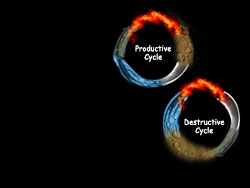 Here is the The Five Elements Feng Shui wallpaper.
For PC users you can click on the wallpaper below to display in your browser. Then right click and select "Save as Wallpaper".
For other users, click on the image to show the full size Feng Shui wallpaper in your browser. Download it and and set it up as a wallpaper in the usual way.
Related Articles