Feng Shui House History
If you are planning to buy a pre-owned house, you should make an attempt to check the history of the house.
In the Flying System school of Feng Shui, subsequent renovations can re-birthed the house and change the qi energy distribution within. You should get a record of the renovations (and the extend) that was carried out. This information will help the Feng Shui practitioner to determine the exact 'period' of the house.
There are other reasons why you should get the history of the house.

For example, multiple previous owners in a relatively short period is a cause for concern. Check also if any voilent deaths had occured in the past especially with older properties. The negative energies generated sometimes stay within the house and create problems for later occupants.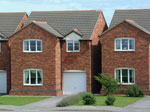 Check if the previous owner was forced to sell the house due to financial difficulties. This could be due to (but not necessarily) poor Feng Shui of the house!
Check also if relationships amongst previous occupants were harmonious. Constant quarrels or cases of violence is a cause for concern. Ask about the health of the previous occupants. Serious illnesses contracted during the stay in the house may be due to Feng Shi defects and required further investigation.
Have you considered bringing a young child say between the ages of 3 to 5 during your house viewings? Feng Shui practitioners believe that a young child is very much more sentisitive to the environment and can 'feel' the energy of the house.
If the child is happy and playful in the house, this is an indication that the energy in the house is good. If on the other hand, the child appears to be unhappy, want to leave or cry for no apparent reason, then ....
(Feng Shui House History Trivial: Do make an effort to check the history)
Related Articles