Feng Shui Bagua
It is not uncommon to find a Feng Shui Bagua installed above the main door of many Chinese homes. This device usually made of wood and octagon-shaped has a mirror in the center and surrounded by patterns of broken and unbroken lines.
Many Chinese believe that the Feng Shui Bagua can block harmful 'sha' energies from entering the house and affecting the occupants.
The pattern on the Feng Shui Bagua is that of the early heaven arrangement with Qian (three unbroken lines) on top and Kun (three broken lines) below. The mirror in the center can be convex or concave.
Can it the Feng Shui Bagua really block 'sha' energies from entering a premise?
The jury is out. Many practitioners especially those with Toaist root believe in the power of the device whose blocking power can be made more effective if it is blessed ('hoi kong'). On the other hand many classical Feng Shui practitioners do not believe in its 'supposed' power.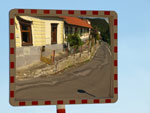 Nonetheless, this has not stopped many Chinese families from installing it just in case.
A unique problem crops up in urban areas where houses and apartments are built quite close together. Many Chinese believe that the device install in the house opposite theirs can reflect the 'sha' into their house. In response, they install even bigger one to reflect the 'sha' back. This can go on an on and it is not uncommon to see killing 'woks' and 'forks' coming into play to supplement the Feng Shui Bagua.
How did the Feng Shui Bagua gain this 'sha' killing reputation?
Nobody knows but an explanation was postulated by a Feng Shui researcher not so long ago. According to this researcher, the ancient Feng Shui Bagua does not have a mirror in the center. Instead it has a copper plate, both convex and concave versions are available, that is polished to a shiny finish.
Copper is metal and it has the ability to neutralize earth based energies of earth based 'sha' such as the Five Yellow.
Is this the real reason? Your guess is as good as mine.
Do I use the device in my practice? I do not. There are other effective ways to avoid or block 'sha' energies without resorting to the Bagua. Installing the device is not neighbor friendly and it does not contribute to good relationships which is one of the objectives of applying Feng Shui in the first place!    
Related Articles